sponsored content
Safety and health practitioner
Advance your career – add the "E" to your "S&S"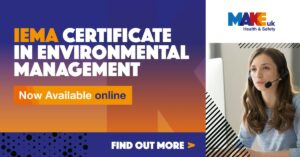 This internationally renowned course is designed for experienced health and safety professionals who wish to advance their careers and gain professional recognition. Delegates will acquire the knowledge and skills necessary to be an effective environmental and sustainability practitioner.
The course covers all areas of training required to become an IEMA Practitioner (PIEMA).
Delegated benefits
Develop skills and a career as an environmental and sustainable development practitioner
Lead environmental performance improvements to drive positive change
Obtain an internationally recognized qualification that leads to membership in IEMA, the benchmark for environmental and sustainability professionals
Business advantages
Improve environmental performance
Demonstrate a commitment to sustainable business practices
Ensure compliance with environmental legislation
Throughout 2021, Make UK has focused on developing its range of health, safety and environment training to offer a range of flexible virtual and face-to-face delivery options, enabling people to acquire the skills they need as easily as possible and build their careers in this field. The latest development in the series is that the IEMA certificate can now be studied online.
By studying the course online, delegates can tailor their learning to their busy schedule and complete it at their own pace. It is a convenient, flexible and economical way to study this fully accredited IEMA course. .
There is also a blended online option available – "OnlinePlus +", which makes the most of virtual classroom and online learning. Designed for learners who prefer the structured support provided by a tutor, but who do not have the option of attending face-to-face classroom sessions.
The IEMA certificate can also be issued by Make UK in the following ways:
Classroom: Make UK's Covid-secure training centers allow delegates to step away from the distractions of the workplace, learn from their peers and focus on their qualification.
In-company: Make UK can visit the workplace and deliver the course at a time and place convenient for the company. They'll also tailor your course to the business, bringing the content to life.
Click here to learn more about the course and the different delivery options available.
Advance your career in health and safety
Browse hundreds of health and safety jobs, featured by SHP4Jobs, and take your next steps as a consultant, health and safety manager, environmental advisor, health and wellness manager and more.
Or, if you are a recruiter, post job vacancies and use our database to find the most qualified candidates.
Related topics